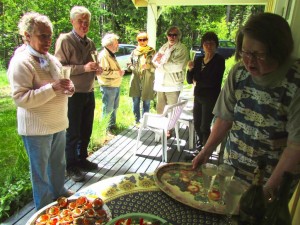 ENGS  Reino Lampinen 10 December 2016
Activities of the Green seniors in Finland
During this year our two associations, the nation wide Ikävihreätand the local Helsinki group, IKIVI (altogether c. 50 members)have concentrated on the resistance to two political issues:
- citizen initiative to raise the work pensions by modifying the index from today's balanced one (80 % depending on the change of consumer costs and 20 % on the change of wages) to follow exclusively the wage index
- proposal by the Government to decrease the ratio of nursing personnel to the patients in care of the elderly from 0,5 to 0,4.
The citizen initiative that gets at least 50 000 signatures in six months will be handled and decided by the Parliament. This one was highly successful with 85 000 signatures. It was presented to the Parliament 8 November. The previous day Ikävihreät and the association of Young Greens and Students launched a common stance stating that the proposal would mean more support for the prosperous pensioners, no benefit for the poorest ones on the state basic pension (who's pension index depend exclusive on the consumer price index). In addition, the only way to finance the raise of higher pensions would be raising the pension tariff (now in average 24 %) for those still in working life, and in particular for the younger generation.