On February 25th, the Equal Opportunities Committee in the parliament  of Hamburg held a hearing on the subject of "Participation of senior citizens through digitalization – a strategy for Hamburg" – with an overwhelming response. Our member Christa Möller-Metzger (on the left) campaigned for it and almost 3000 viewers followed the livestream! As many as never before!
These were the most important suggestions, ideas and demands made by a total of six experts:
 Older people are the fastest growing group on the Internet, but there is a lack of suitable offers for them
There is no overview of all the offers that are already available, we need a digital platform for offers in every district
We need older influencers who show others how we can use the internet
A digital pact for old age is needed, there is a lack of training strategies for older people
We need places of learning in every district
Research must include the elderly and must not end at 65 plus
We need a round table with banks, health insurance companies, retailers, adult education centers, bookhouses, senior citizens' meetings, providers, retailers, nursing home operators, care services and many more
Free WiFi must be adopted for people with basic social security and WiFi must be a matter of course in all nursing homes
Older people need free loan devices to get to know each other, to reduce fears and for everyone who cannot afford a tablet and smartphone
With anglicisms we exclude many elderly people
Schoolchildren and students could support older people in using digital devices, but also older volunteers
Older people today have to take the step into the digital world – but offers have to be created to make it work. E.g. from banks, health insurances, residents' registration offices and everywhere where analogue offers are set
We need a lot more digital courses, the offer is currently far from being sufficient
We need trained staff and a balance between volunteers and full-time employees.
It is possible to learn at any age
We have to learn new things at every age; this will also be necessary in the future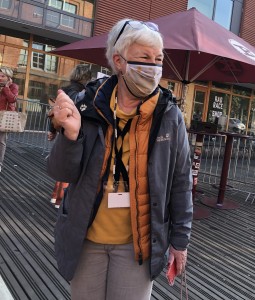 Dagmar Hirche (on the left), Chairwoman, Ways Out of Loneliness, finds it shameful that nursing homes still do not offer wifi across the board. And describes age today as extremely diverse. She has worked with young refugees who have explained digital technology to older people, which works very well.
Professor Dr Dr h.c. Andreas Kruse,
(on  the right) Chairman of the 8th Age Report Commission, Professor of Psychology and Gerontology, gives the state and municipalities responsibility for ensuring that all households are equipped with digital technology. Older people want to stay in their home environment, and digital services of general interest help decisively with this.
Nicola Röhricht, (on the left) BAGSO (Federal Association of Senior Citizens' Organizations eV), praises Baden-Württemberg and Rhineland-Palatinate for having ready-made educational plans. You need a strategy, the digital pact. Good examples have to be shared. The economy has a duty. Manufacturers Technology should be brought to the table, updates should be easier to handle. An education plan is good, but a fixed curriculum is not. For the inclusion of people with a migration background, we need bridge builders, links that we have to approach. And first of all we have to the benefits of technology will be explained, e.g. via Google earth, you can travel to foreign places even if you are not mobile.
Jens Stappenbeck, managing director of the Arbeitsgemeinschaft der Freie Wohlfahrtspflege, demands that digital education must be free of charge, we need individual and group offers. In senior citizens' get-togethers, there are often only outdated end devices, which is not enough. Digital devices would have to be made available.
Uta Keite, employment Manager at the Bücherhallen Medienprojekte GmbH, is currently establishing contacts with migrant organizations, which could easily be incorporated into the media delivery service. She is planning home visits as well as visits to retirement homes. Her digital courses are always fully booked.
Joachim Schulte, Digital Angels Project Coordinator, Digital Compass Project Manager, explains that the Digital Angels will be on the road in Hamburg and Schleswig-Holstein from October to November. They stand on marketplaces to provide information about what is on offer. Many older people wanted to stay in contact, read the newspaper online, looked for timetables or played games. T h e old dont existist as it is the same with t h e young ones – and old is not synonymous with offline.