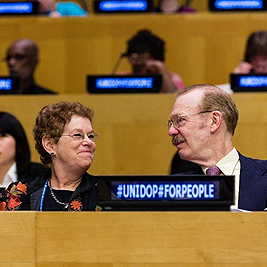 UN Calls for harnessing one of the world's greatest untapped resources – older persons
This year, older persons around the world are celebrating the United Nations International Day of Older Persons, by looking to the future and underscoring their vital role in it. Today, there are 962 million older persons worldwide, who are projected to outnumber youth by 2030, the target date for the Sustainable Development Goals (SDGs). It is undeniable that global ageing has become a mega-trend that is clearly going to have a significant impact on the road to the achievement of the SDGs, which necessitates the inclusion of older persons and harnessing their untapped potential in the process.
This year's theme "Stepping into the Future: Tapping the Talents, Contributions and Participation of Older Persons in Society" is about enabling and expanding the contributions of older people in various aspects of social, cultural, economic and civic and political life, in accordance with older persons' basic rights, needs and preferences.
The official commemorative event will take place at UN Headquarters in New York on 5 October 2017 and is organized by the NGO Committee on Ageing in partnership with UN DESA Focal Point on Ageing, and sponsored by the Permanent Mission of Argentina.
The event will include a panel discussion to showcase cutting-edge research, age-related technological innovations, and models of civic involvement and entrepreneurship of older persons. It will also feature the official launch of Highlights of the 2017 World Population Ageing report.
The commemoration will be broadcasted live via UN Web TV. To follow the conversation via social media, the online audience is encouraged to use the hashtags #UNIDOP and #60Plus.
For more information: International Day of Older Persons 2017