Reino Lampinen
ENGS Fringe Meeting in Antwerp 19 May 2018
Altogether 17 people attended the meeting, 12 visitors both from international and EGP organisations as well from national Green associations. Also six ENGS Board members were present.
 Seminar was opened by ENGS vice-chair Vivianne Gunnarsson. She presented our association and the members of the Board.
Our Secretary General Frank Hauser had prepared a slide show under title Losing Elections by losing the elderly Voters. The slides can be found separately on this site.
After the presentation we had a lively discussion. The audience acknowledged the situation also in other countries than the three examples by Frank. It is necessary to build argumentation on facts. Therefore we must look for reports on election results among different age groups in Europe. Statistics shall be used to make people aware of the situation.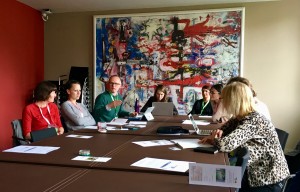 Trends are European-wide, even global: the share of elderly in the population is rising. Simultaneously people tend to become more conservative with age. This change in values can be found in other areas, too. In Germany 80-90 per cent of people with conservative values say they are worried of the refugees, while only 30 per cent of Greens share this view.
These developments are a serious threat for the Green policy and the Green parties throughout Europe. The older generations vote more eagerly than the young and are more conservative. With bigger share of seniors we get ever more conservative decision makers for municipal councils, national and regional parliaments and the EP.
What is needed is a Green policy that takes into account this mathematics: the Greens cannot prosper if they only concentrate on the issues concerning the young: education, children care, mothers etc. Issues like the environment, global change, democracy, gender questions etc. interest all age groups but also issues and problems of the elderly must be put on the table.
It was a general notion that the elderly are feeling unwanted in the Green movement.
The Greens tend to choose young leaders for themselves. Is this really the best approach for the Greens as a Party? It is important for all age groups to be recognised at least as candidates, even if it is more likely that the elderly elect more mature leaders.  Maybe women with experience can attract more than one group. This is at least an experience from Sweden.
The perception of age has changed. This change follows the fact that more people than before are needed in the job market in order to finance the care of the growing share of the "really" old. Now 40's are considered to be "hippies", and today many of them have small babies. People aged 60 or more are considered "seniors". Old "middle-aged" from 40 to 50 fall there between and do not belong to either of those groups.
Many Greens choose to work with only one question, today for instance refugees or climate.
The climate change is important, of course, but not the only issue to be worried about. The social issues are also important and in many countries the Green party has been more interested in the social issues than in the environment and ecology.
Media was also mentioned: they often are not very interested in general on the elderly, e.g. the social work for the elderly, neither on the social or voluntary work done by the elderly. Today voluntary work is not valued as there are more cheap workers. Communication tends to be focused on young people.
Greens must be friendlier towards all people. We do a lot of for elderly but we don´t communicate this in the right way. Benefits for elderly must be more accurately communicated to get more voters for the Greens. Our message must be something that attracts, something to express happiness. We need a positive discussion with assumed voters – we must communicate in a positive way what we have done so far.
A generation policy would attract more young and elderly. Voters need someone who is going to support their interests in policy and it probably must be somebody they feel affiliated with. Young and old need each other – we must communicate a generation policy.
Finally, Vivianne presented the items in the focus of the ENGS:
–       no discrimination for the elderly in job market
–       passing of experience – lifelong learning
–       sufficient pensions
–       voluntary work
–       access to health care – dying with dignity
–       mobility
She asked the audience for ideas to develop our activity. She also asked what makes people happy or for what they are concerned.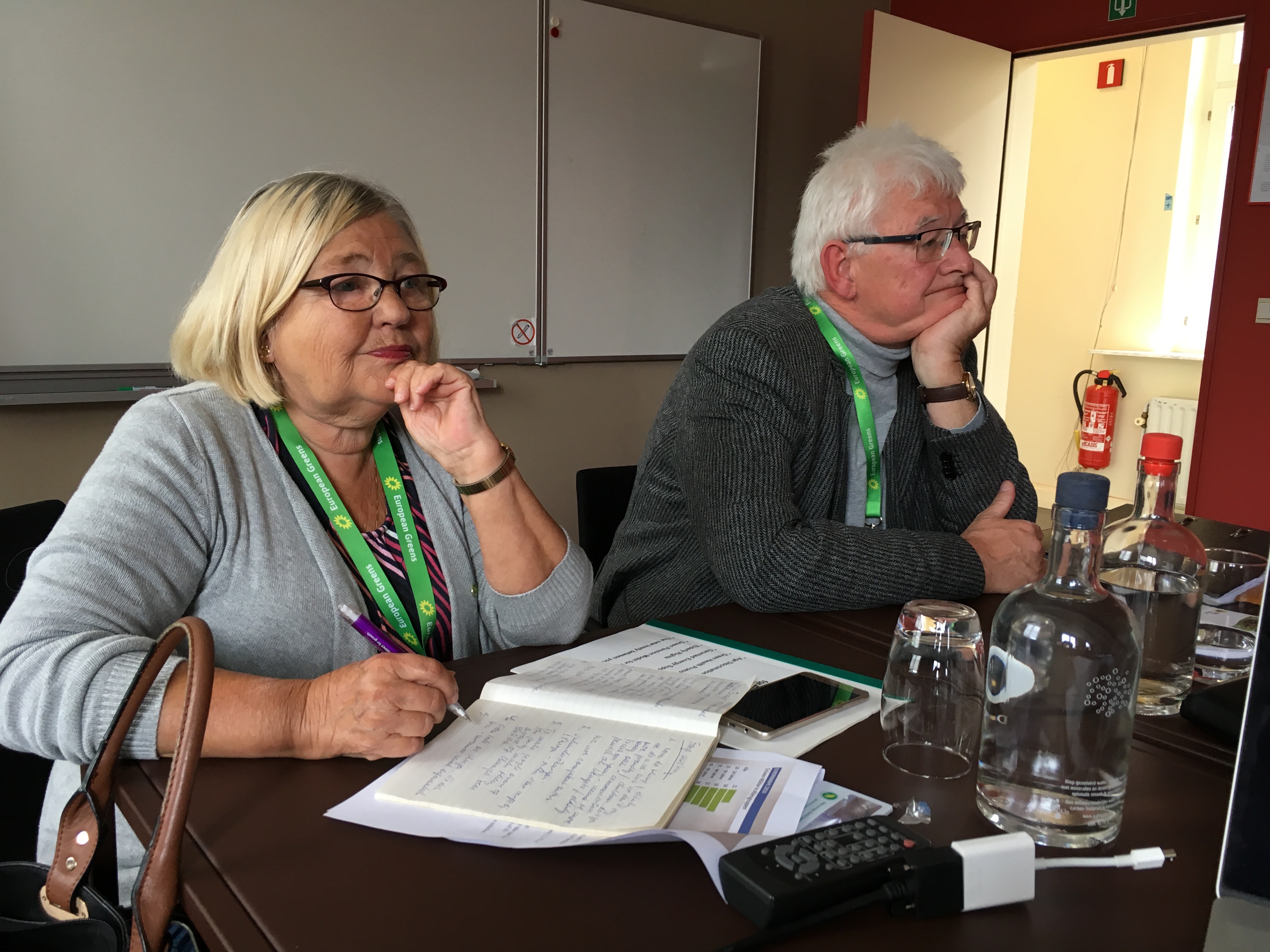 The audience mentioned first mobility – everyone, both young and old, in job life, in school, in parental leave or in pension, needs good and moderately priced mobility. On the other hand there is a contradiction: when Greens try to reduce the role of car in cities many elderly don´t agree. They feel that their needs are underrated because the private car is the means for their mobility.
Greens must find ways to explain better that they are not against all forms of car travels. A car can also be part of public transport if subscribed and shared.
Mobility has a link to participation in the society. Without good transport possibilities many seniors are more inactive than they want.
Neighbourhoods are important for happiness. Good results have been achieved with experiments of mixing young and old to support each other, for instance to live in the same premises to help each other with cooking, care of children and the old and other daily matters.
The representative of Slovenia mentioned pensioners' party in her country – it has been permanently in the Government with its c. 10 per cent share of votes.
Promise of better pension works – at least in some countries with very low incomes.
To sum up: we listen to you and to your needs, we want to make a difference and make it together with you.