Last saturday, 20. 3. 2016,  80 delegates had gathered to vote for a New period of the Green Party, Stockholm region. In all 26 communities were assembled. The 80 delegates voted for a new board and the plan of the year.
The key-note speaker was our Green minister for culture and democracy, Alice Bah Ghunke. She  inspired us to move on as a civil society and work for a society with true democratic insight. We have the good fortune to live in a country which foster democracy through the work of great many NGOs .
Most Swedens have been members of one or more NGOs from an early age, such as scouting, nature and adventure associations, orchestras, choirs, Red Cross for young people etc. That foster a sence of community, collaboration and solidarity. We thereby learn democracy at an early age. Now when we get more people in the country with different backgrounds it will be very important to communicate the learnings we have got ourself about what democracy is. All types of cultural moves are bridges to better understanding between people of true democracy.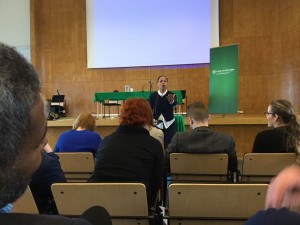 Vivianne Gunnarsson, Green seniors Sweden