10th Central European Round Tabl of Green Local Councillors
Vienna, 5th-7th December 2014
CERT is the place, listen to green friends in other countries, to cooperate and make networking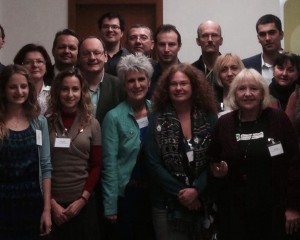 With Delegates from Czech Republic, Croatia, Serbia, Hungary, Slovenia, Macedonia, Bosnia-Herzegovina, Lithuanua, Austria in Viennas City Hall at Central European Round Table of Green Local Councillors.
Monika Vana, Green MEP EU-Parliament in Cooperation with Greens/EFA Group, Austria Green Foundation and die Grünen Wien invited us.
Reports from all Green Partys and Movements, inputs from Green Election Campaign Austria Manager Martin Radjaby, Gerhard Jordan and Zoltan Zarandy as Initiator of Cooperation Projekt Vienna district and Budapest, Rüdiger Maresch for the Green Campaign for a pedestrian zone and shared spaced at Mariahilfer Strasse stood on sunday on the program.
ENGS Road-Map 2015 was represented from Birgit with a power point presentation