Traffic-Notes from Chris in Germany:
In Hamburg, the group Green 60plus is discussing their wishes for the equipment of the new generation of buses in local public transport. This is our plan – what do you think? How about the public transport in your town or country?
1. Barrier-free entry: low-floor technology with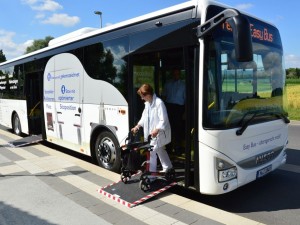 lowering of the entry at the bus stop, so that people with walking disabilities and people with walkers, wheelchairs and prams can get on and off without outside help. In order for the bus driver to have an overview, a wide low-floor entry at the front of the driver would be good. If necessary, apply a program for adjusting the curb heights.
2. More space for rollators, wheelchairs and prams.
3. Some special seats, preferably near the entrance: wider, with side support, raised seat, seat with space for a rollator in front of it; Colored floor and seat markings show the way; sufficiently widened passage.
4. Sufficiently large monitors with information about stops, routing, transfer and connection options and acoustic information about stops.
5. Sufficient handholds, accessible even for small people and requirement button at the entrance to request that the driver only drives off when the guest sits. Helpful for this: camera for the bus driver for every entry.
6. Of course: emission-free buses!
7. Additional conductor on the bus: cashing in, assisting, ensuring safety.
8. All stops are covered and have plenty of seats.