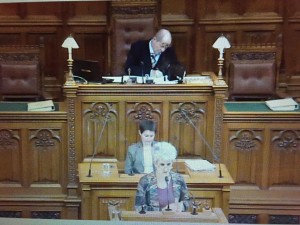 City Council Vienna, Budget Discussion, 12 December 2016
EUROPE Birgit Meinhard-Schiebel
A week ago yesterday, something happened, the importance of which may only become apparent in a few years.
The Austrian population made a choice and thus took a decision which was noted all over the world.
Politics during the last months had been characterized by an almost unstoppable rise of right populist and extreme right parties and by so-called 'anger votes' at referenda, which quite often left behind them a 'political pile of broken glass'.
But on December 4, something happened, that seems like a fairy tale, considering the events worldwide: A small people in Central Europe defies the tendency noted everywhere and clearly rebuffs rightwing populism and demagogics!